Last year the FAA changed flight paths over Phoenix without warning. A lawsuit is in the works.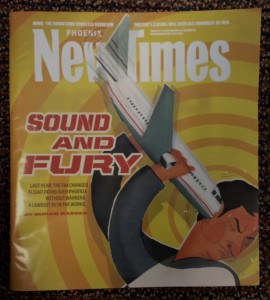 Gerry McCue gets a kick out of describing the moment last fall when he first heard the airplanes over his house.
"I thought the city of Phoenix was being evacuated and I didn't get the memo," the 85-year-old says, opening his eyes wide for dramatic effect.
Like many residents in Phoenix's downtown historic area — as well as those living in Laveen and certain parts of Tempe — when Gerry and his wife, Marge, woke up on September 18, 2014, the house they had lived in since 1962 was suddenly under a major flight path out of Sky Harbor International Airport. At the time, they had never heard of "NextGen," but that would change very quickly.
"They come in batches. You can hear it for four continuous hours — rooooaaaar, rooooaaar, rooooaaaar," Gerry says, trying to imitate the drawn-out sound of an engine. "You hear it coming, and just as it peaks out, you hear the next one."
He likens it to Chinese water torture: "constant, chronic."
The noise interrupts their conversations and keeps them from sitting outside or inviting guests over for a BBQ. The sound makes them unconsciously tense their jaws and grit their teeth. And even worse, it has reduced the value of their home by over 30 percent — no small dent in their life savings… (Continue reading in The Phoenix New Times.)