As University Tuition Skyrockets, Arizona Coeds Turn to Sugar Daddies to Cover Costs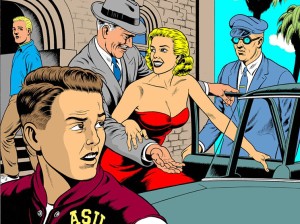 When Victoria was 15, her father took her to the Red Light District in Amsterdam.
"Vicky," he said, pointing to the women dancing behind the glass of a shop window, "if you don't go to college, you'll end up like this."
More than a decade later, Victoria sits in a dimly lit booth at the Cheesecake Factory in Tucson Mall on a Tuesday night, a year away from getting a bachelor's degree in fine arts from the University of Arizona.
At 28, she's older than most students. And with surgically plumped lips, veneer-capped teeth, and Ugg boots covered in red rhinestones, she doesn't look like them, either.
She was early today, early enough to have already ordered and finished a salad by the time her slightly late dinner date arrived, so she sips lemonade from a sugar-rimmed glass while talking about the classes she's taking this semester: two studio art classes, art history, and a digital communications course.
But she doesn't want to talk about school. She'd rather discuss her plan to become a photographer for a luxury lifestyle magazine or her favorite hobby: shopping.
She describes her closet full of clothes from "Bloomies" and Victoria's Secret and gushes about the chocolatey perfume she's obsessed with these days. It costs $375 a bottle.
At some point, she mentions that she grew up poor in Virginia — her father was in the U.S. Marines and her mother was a hairdresser — but not in a defensive way, just to highlight that her life wasn't always like this. In fact, just two semesters ago, she felt like a lot of college students: uncertain she'd graduate because she couldn't afford tuition.
But money isn't an issue anymore because Victoria has a sugar daddy — three, to be precise.
She met them through Seeking Arrangement, the leading matchmaking website for sugar daddies (usually older wealthy men) and sugar babies (usually young attractive women) looking to connect for "mutually beneficial arrangements." She says she's romantically involved with two of the men (one is 57 and the other is 62) but just friends with the third. He's 81…. (Continue reading in the Phoenix New Times.)